Search Engine Optimization requires an understanding of search engines. You must know how to get traffic from Google's natural or organic search results. Search Engine Optimization is basically Search Marketing. Think about a potential customer for a moment. What will they be searching for that might relate to your business?
Take these examples:
Restaurants
"What's the best restaurant near me?"
"Restaurants open late at night."
"Best Mexican food in town."
Dry Cleaner
"How to clean my suit jacket."
"Dry cleaners in Davenport"
"Suit cleaning company"
Solar Company
"Electricity bill too high"
"How to get solar panels"
"Lower my electric bill"
Search engine marketing means optimizing your website to answer the questions that your potential customers have. You also don't want to answer the questions of users who are nowhere near your business, because these people can not patronize your website. So we combine answering useful questions about your business with local keywords to optimize your website to attract new local customers.
All About Search Engine Optimization
One of the most crucial ways to earn new business from your website is through search engine optimization, often known as SEO. The approach of optimizing your website so that it ranks better in search engines is known as SEO. The results of a campaign can have a significant effect on the trajectory of your business.
You'll get more visitors to your website if you rank higher in search engines. More visitors leads to more business! Search Engines like Google find search results by going through the internet, checking websites, PDFs, documents, and other content. Google's goal is always to offer the best results possible, so to appear on the research results, we include relevant keywords, creating unique, valuable, high-quality content to build authority and links, and maintaining an active presence on social media to help you grow an audience. Look at the top results for "website design in Iowa," it's us!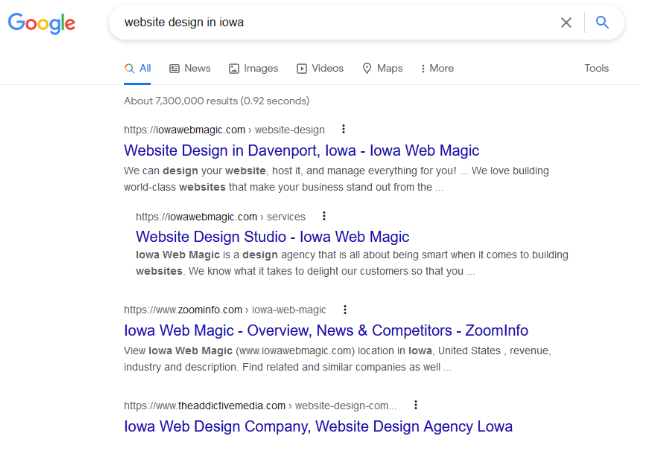 First, let's discuss Google. Google is a search engine that gives people results based on their queries. On every level, they aim to provide the best, most informative, and most valuable benefits to users. Sometimes Google even tries to "predict" what a person is looking for, even if the person hasn't typed clearly what they desire!
The internet is fast-paced, consumers want to get what they want as soon as possible. This means that if your page is sluggish to load or lacks multimedia, it is unlikely to be considered the best. Before viewing your site pages for ranking, Google evaluates an extended range of attributes. Let's go through some of the most crucial SEO ranking factors to remember.
Page Loading Time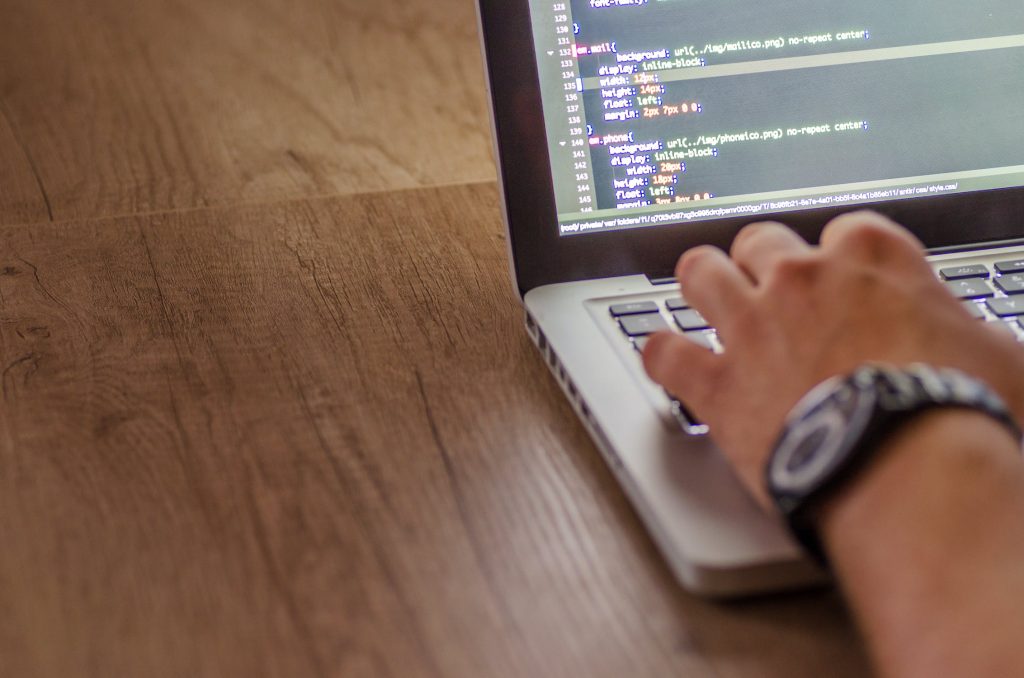 If your website's pages are taking ages to load before reading the information you provide, users are more likely to abandon them. Users feel frustrated when a page takes too long to load, which is why Google takes page speed into account when ranking your site's pages.
The first item on our checklist is to determine the cause of your website's poor page performance. Even if you believe your website is quick to load, it's always a good idea to double-check using Google's PageSpeed Insights tool.
When you perform a page speed test on your website, you'll see that it takes a long time. It will display field data, lab data, and even a list of ways to improve your page speed. A list of specific diagnoses will also be provided.
User Experience
Google wants every visitor to your website to be happy. That is why if you provide a less-than-satisfactory user experience, they will not give it a high rating (UX). Google considers the following factors when determining whether or not your website provides a good user experience: The number of visitors who visit your site due to an organic search is known as the clickthrough rate.
The proportion of visitors that leave after the only single visit is known as the bounce rate abandon your site after just seeing one page. Dwell time refers to how long visitors will stay on your website after they arrive.
Google must give a terrific user experience to rank your sites highly. Add multimedia to your content: Start by ensuring that your content pages aren't merely a wall of text but that they're also broken up by multimedia. These could be graphics that aid to demonstrate what you're saying in the copy or a film that helps sell your message.
How Does Your Website Look On Mobile Devices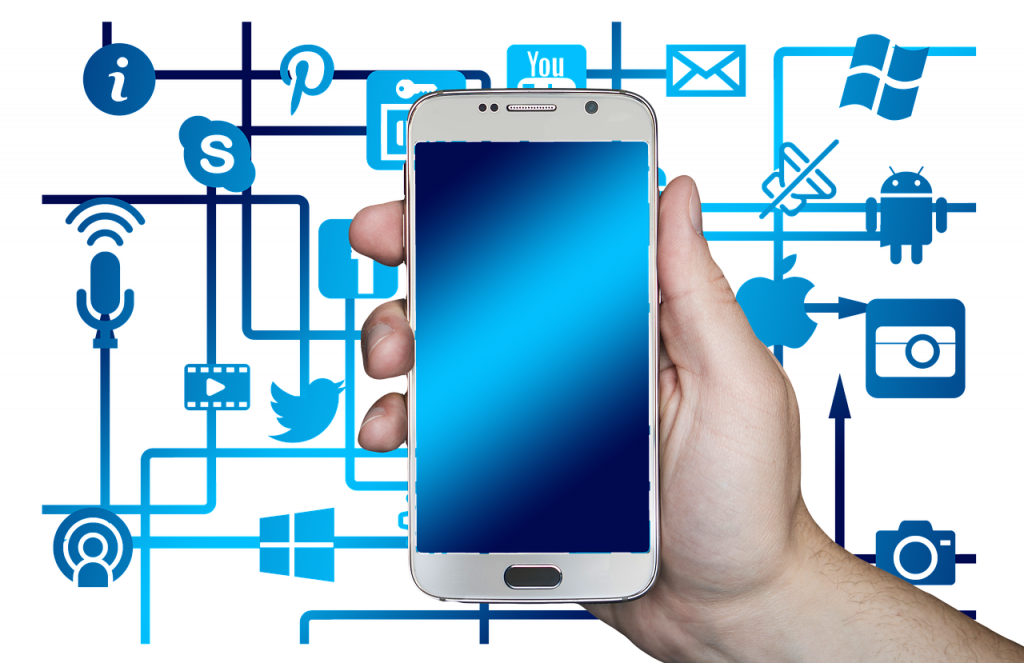 Visitors to your website don't just use desktop computers to view it. Because smartphones and tablets are so prevalent, Google considers whether or not your website is mobile responsive.
Visitors to your website will benefit from this same experience regardless of their device to see it. Visitors using a smartphone may have difficulty clicking buttons or reading small text if the site is not mobile-friendly.
Make your call to action buttons as big as possible for mobile: If you have tiny call to action buttons all throughout your site, users will not be drawn to them on a desktop, and they will not be tempted to them on a mobile device. Keep in mind that everything, including buttons, is smaller on a mobile device. As a result, make sure your buttons are large enough to be clicked on a bit of the device.
Include img-responsive tags to images: You'll need to add img-responsive tags to your images if you want them to look well on all devices. This ensures that your photos are resized for mobile devices when your site pages are resized as well.
Links To and From Your Website
Three categories of links are evaluated by Google for their quality and quantity; Links that point back to you: Links directing traffic to your website; Websites that you link to in your content are known as outbound links; Links inside the site: How your web site's pages are connected.
Though quality usually takes precedence over quantity, having a large number of authoritative inbound links demonstrates to Google that you're a reliable source of information. It would be best if you also linked to reputable, high-quality websites to show Google that your content solely contains helpful information.
It's also critical to have a large number of internal linkages. This not only helps consumers stay on your website longer, but it also helps Google identify and rank your website pages more quickly.
If you've observed that there aren't many sites linking to your material, it's time to undertake some outreach. You can use content outreach to contact people in your business who might be willing to link to your content and encourage them to do so.
Optimization Of Content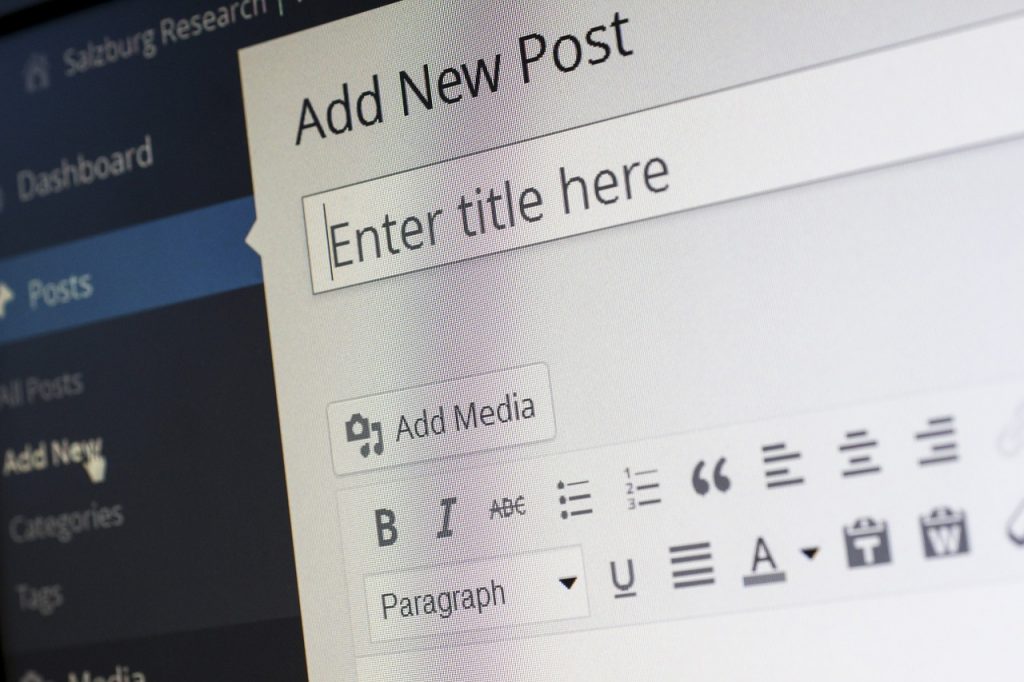 One of the essential ranking elements that Google evaluates is content. There's nothing to rank your site for if there's no content, so it's evident that content is crucial. You can't, however, write content and expect Google to rank it.
You'll need to generate content that targets essential keywords in your sector if you want it to rank well in organic results. When producing your content, there are numerous factors to consider.
A few of the most popular are listed here: Using keywords to target such as Internal hyperlinks, Integration of social media, Images, and video are used as examples of media, Keyword-targeted headings. Google will only give your content a high ranking if it contains relevant and valuable information about your target term.
As previously stated, content is one of the most crucial aspects of any SEO campaign. What would Google rank if there was no content? To ensure that Google wants to organize your material, use these SEO best practices for content.
Remove old, out-of-date content: If your website has seen better days and your most recent blog post was written in 2007, you might consider trimming some information. Links on these sites could lead to 404 error pages, redirects, or a myriad of other problems, all of which could damage your site's reputation. Delete keywords you're targeting on old sites if they're no longer helpful or are utterly irrelevant to your sector.
Update old, usable content: If your content needs a refresh, now is the time to do so. Take the time to fix pages that target great keywords but have outdated links or facts; As a corollary, they are more apt to be ranked.
Create excellent new material: Google appreciates a continual stream of new stuff. It implies you're on top of things and looking for new ways to rank higher in search results. Your new content should be based on the most critical keywords in your business, with search intent or what users are genuinely looking for in mind.
Security
Google analyzes SSL security when ranking websites since it demonstrates that a site can securely accept sensitive consumer information. SSL security is indicated by HTTPS at the beginning of your URL rather than HTTP, and it shows Google that you care about the privacy of your users.
SSL certificates ensure that information provided to your website by customers cannot be hacked or stolen. This is a must-have feature, particularly for e-commerce sites. Purchase an SSL certificate, activate it according to the instructions, and install it on your website to guarantee that your website is user-friendly. You'll not only please potential clients, but you'll also satisfy one of Google's top-ranking factors.
Doing SEO in Davenport
The aforementioned SEO best practices are excellent if you want to increase your search ranking. This is an excellent place to start. Whatever industry you're in, the competition for a spot on Google's first page is challenging. Make sure you're keeping up with the latest trends after you've incorporated these best practices—current SEO trends and using other SEO strategies on a regular basis to stay ahead of the competition.
Here at Iowa Web Magic, one of our top services is search engine optimization.